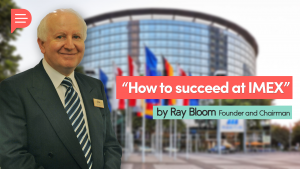 An exclusive Interview for Planify with Ray Bloom, Founder and Chairman of the IMEX Group.
1- We would like to know the person behind the brand, can you resume who is Ray Bloom and the impact IMEX has had on your life? 
I've been in business ever since I left school and I've been working in the meetings, events and exhibitions industry for more than 30 years.
I am married with two daughters and 4 grandchildren. I was born, brought up and have lived in the Brighton area in the South of England all my life and have always been a keen and active supporter of Brighton & Hove Albion Football Club. I take great pride in following my father as a Director of the Club.
I wholeheartedly believe in meeting and engaging with contacts face-to-face. So, over more than 15 years, in the continued development of IMEX, I have spent hundreds of days away, travelling many thousands of miles worldwide each year to do business, take part in industry events and make connections.
In the process I've got to know many people in the industry who I now think of as good friends.
2- How IMEX is different from other trade shows in this sector? 
We focus on how to improve the development and operation of our shows for the benefit of all our customers rather than compare our events with others.
Our approach is to talk frequently with our customers, buyers and industry partners, listen to them, understand what they need to be more successful and then work hard and creatively to deliver solutions. They may want appointments with buyers ready to do business, new destinations and venues for buyers to meet, networking opportunities or engaging and valuable education.
3- Starting in 2002, what were the biggest challenges you had to face? 
To create and build a successful new show, we had to gain the confidence of everyone on all sides of the industry, persuading that we would deliver what they needed and wanted from the show – then exceed their expectations, year after year.
4- What's the key for IMEX's success? 
We couldn't have built IMEX without the tremendous loyal support of the industry, the buyers and all our many partners and we greatly appreciate their enormous contribution. We keep our focus on understanding the changing needs of the market and each year enhance the show with new developments to keep ahead and meet the latest needs.
5- What changes do you predict for the future of Incentive travel / meetings industry? 
The use of technology within the industry and the range of products available seems sure to continue to grow.
We also expect national and regional governments who increasingly recognise the major contribution that the meetings and events make to economic development as part of the knowledge economy, to invest further in the development and marketing of countries, regions, cities and convention facilities as venues for conferences and events and as incentive travel destinations.
6- In which countries do you predict IMEX to grow in the next years? 
We never know exactly which regions will be the next to invest in developing their position in the meetings industry.
Based on those who are about to exhibit at IMEX in Frankfurt and regional investment trends, I can say that exhibitors from Africa and Asia have booked 10 per cent more space this year. For example, Saudi Arabia will be exhibiting for the first time this year and is making significant investments in its infrastructure. The USA and Canada have also increased their presence at the show by 9.5 per cent.
7- How can an IMEX exhibitor extract the most out of it and how can a small company get noticed in the middle of giants? 
The secret is to make the most of the IMEX appointments system and the many marketing, sponsorship and PR opportunities.
While there are full details in the exhibitor manual, on the website and also through webinars organised by IMEX, the IMEX sales team are also happy to help our clients direct. A creative stand design and creative marketing activity during and around the show can certainly have a significant impact in helping smaller companies and brands to get noticed.
8- Lastly, as a participant how can I plan which exhibitors I would like to visit during the event? 
The best way for a participant, or buyer, to make the most of the show is to use the Online Exhibitor Directory and IMEX Appointment System in advance of the show.
Over 60,000 appointments are made using these tools prior to the show starting and this ensures that buyers are able to both plan their schedule according to their needs, as well as ensure that they meet the exhibitors who match their needs. Other useful tools include the IMEX App and Show Planner which are both available onsite.