Do you want to be part of an exciting journey?
This is your opportunity!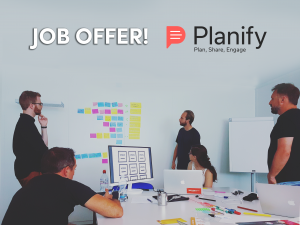 Planify is a spin-off Coteries Lab, a web & mobile application development agency based at EPFL Innovation Park in Lausanne. Trusted by renowned companies like Swisscom, Local.ch, EPFL and startups, Coteries Lab is specialized in the development of prototypes (so called "Minimum Viable Products") to help test and iterate new concepts and ideas, as well as building websites and mobile applications for its customers.
Planify is born from experiencing ourselves the pains of group travel: receiving many emails of the tour plan with a few updates on the PDF. Which are both a nightmare to track and generating some kind of insecurity, as you're never sure to have kept the most-recent version! We successfully tested the first version of Planify with our biggest customer, which was planning an "Top Executives Learning Tour" to Silicon Valley. Since then, we have massively improved our group travel planning solution and convinced hundreds of customers to use Planify.
What is Planify? It's a tool that helps travel agencies, tourism offices, tour operators or HR department sharing the program of a group travel (delegations, incentive travel, study trips) via a mobile app, with enriched features (participants' profiles, documents, pictures, etc.).
Planify helps saving time on planning and sharing the travel itinerary, with the major benefit for participants to always have an up-to-date program in their pocket.
As we are growing, we are looking to expand the team with:
1 Software Developer
1 Business Developer (internship)
1 Digital Marketer – French Fluent (internship)
Is this you? You:
are proactive, dynamic, curious, organized, are likeable and have a smiling personality!
are enthusiastic about taking ownership and be responsible for different parts of a project (for the Software Developer position, that means: front-end, mobile, back-end);
are a great team player, but also able to work on projects autonomously;
can handle multiple projects in parallel, in a fast-paced environment;
have an entrepreneurial personality and can think outside of the box;
are hungry for success and have the ambition to grow your skills;
have, ideally, an experience working for a startup – or at least are interested to work in a small and dynamic team. For the Digital marketer, at least you've already heard about "Growth Hacking";
have a strong desire to learn and are fluent in English (and ideally also in French – required for the Digital Marketer);
for the Software Developer: have experience with different technologies, programming languages and platforms (front- and back-end, such as: iOS (SWIFT) / Android, React.js, Javascript, Mongo DB, Node.js, PhP, Java).
Our side of the bargain – we offer you…
The opportunity to grow and progress your skills and career!
You will be an important part of an amazing team building ambitious projects and…
.. as a Software Developer, you will:
be experimenting the different stages of building a product, following an agile methodology;
be estimating development projects, defining and implementing software architecture, developing working prototypes and complete web (especially in react.js) or mobile applications (iOS, Android, react native)
… as a Business Developer, you will:
define a business development strategy (especially for Planify.io, test it and refine it along the way;
be experimenting the different stages of marketing and selling a product, from analysing competition to building the strategy, from creating material to marketing it;
reach out target leads, evangelize about the product and ultimately convert them into customers;
get attractive upsides to reward your performance.
… as a Digital Marketer, you will:
be experimenting the different stages of marketing a product, from analysing competition to building the strategy, from creating material to marketing it;
create content (blog) and do SEO, email marketing campaigns, and implement marketing automation;
define audiences and manage Facebook campaigns;
search relevant keywords and optimize Adwords campaigns.
Our values:
We are action oriented and result driven;
We take what we do seriously, but we don't take ourselves too seriously! We are not scared to laugh, experiment and fail;
We are passionate about building and launching digital products.
Want to join us?
If you're interested in this job, make sure to start your application with these exact words:
 "Hey Séb, I'm the Software Developer (respectively, Business Developer or Digital Marketer) genius you're looking for!"
Please send your CV and all other relevant information to: Sébastien Flury, CEO.